A romantic dinner at home can warm up relationships and awaken feelings even after many years of marriage. In organizing such a surprise for your soulmate, it is not so much food that is important as the atmosphere itself, which a well-decorated table will help to create.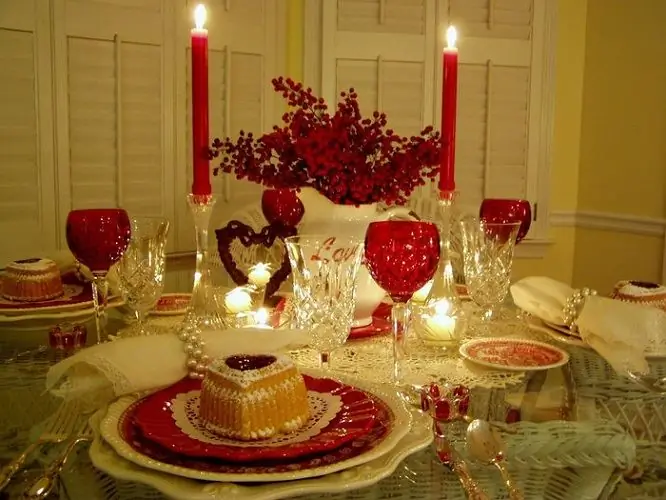 Instructions
Step 1
First of all, serve the food on a table covered with a tablecloth. This element will allow you to create an unusual festive atmosphere, to emphasize the peculiarity of the evening. If you have a romantic dinner at an open table, it will be no different from your daily meal.
Step 2
Candles have always been and remain an integral part of a romantic dinner. You shouldn't buy scented candles, as they will spoil the smell of cooked dishes, and you will feel an unpleasant aftertaste when you eat. Place regular long, straight candles on the table, which will look beautiful if you decorate them from below with satin ribbons or small beads.
Step 3
A bouquet of flowers placed in a beautiful vase can also become a table decoration for a romantic dinner. If you think that only a man should give flowers, buy rose petals from any flower shop and place them on and around the table.
Step 4
Do not forget about table setting. Put on the table two glasses for champagne or wine, two beautiful plates for hot, put a fork and a knife next to them. Decorate the dishes beautifully as well. Put the cooked meat or fish on a large plate, placing a layer of lettuce on the bottom. Decorate with herbs, lemon wedges, mint leaves, or carved vegetable figurines. If you have prepared a salad, then it is better to immediately put it in two portioned plates, rather than serve in a large deep dish. Moreover, it should be laid out in a small slide on the center of the dishes, and not filling the plate to the brim. Put the sausage, ham and cheese slices on a nice plate and garnish with herbs.
Step 5
Hang some dim mother-of-pearl balloons tied with ribbons next to the table. It is better if they are golden, silver, pearl, pale pink or white. They will highlight the festive and romantic atmosphere.