The choice of finishing materials for a children's room requires special attention from parents. It is important that the indoor flooring is not only practical, beautiful, but also environmentally friendly. The price of the material also matters. The most versatile option for children is linoleum. What are the advantages and disadvantages of this type of flooring?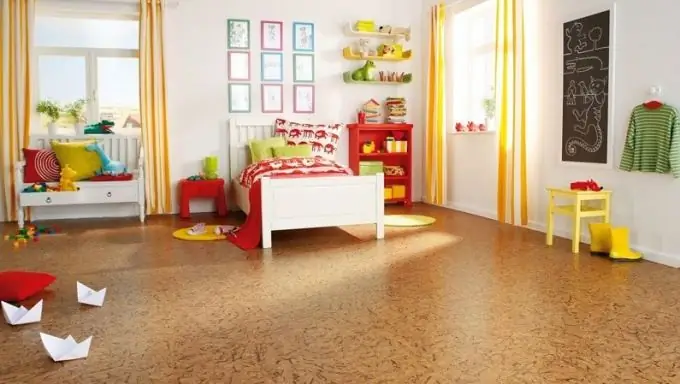 The floor covering in the children's room should be environmentally friendly, easy to maintain, hypoallergenic, fireproof. Therefore, many parents choose linoleum for the premises. This versatile coating has many benefits. However, quite recently, linoleum was not recommended for children's institutions, but today natural material can be purchased for rooms.
Pros of choosing linoleum for a nursery
The cost of linoleum allows you to choose this flooring for almost any budget. But it must be remembered that the price of a material most often directly affects its quality. Therefore, it will be problematic to pick up a cheap floor covering in a room where a child will spend a lot of time.
The advantage of linoleum is its durability, moisture resistance, low flammability. This type of flooring can be subjected to intense stress, and in order to care for it, it is enough to regularly damp cleaning. It should also be noted that linoleum does not deform during operation, it is easy to install it.
Today you can buy natural linoleum - a material made on the basis of cork, rubber, wood shavings, for which linseed oil serves as a binder. Such a floor covering is suitable even for rooms where small children will live. Therefore, on the arguments "against" linoleum in nurseries due to the synthetic nature of the material, you can easily choose the best option.
Disadvantages of linoleum for a children's room
Linoleum most often has a slippery coating, which is important if the child is active. Also, the material is quite cold, but if you wish, you can buy linoleum with an insulating layer in the nursery. The disadvantages of linoleum include the rapid loss of an attractive appearance, but here it all depends on the operating conditions and the quality of the material itself.
Even if you buy artificial linoleum, according to sanitary standards, this flooring for children's rooms is allowed. It is only necessary to select the material of the required thickness so that no dents from chairs remain on the floor, the floor will last longer. For children's rooms, the norm is linoleum thickness of 3 mm or more. You can increase the wear resistance of the material with the help of regular use of mastic.
Parents should pay attention to the breadth of the range of linoleum. There is a textured material and a coating with classic colors, so you can choose a practical and beautiful solution for the interior of a children's room.