Wedding day is one of the brightest events in a person's life. Everyone wants it to be memorable both for the groom and the bride and for guests and relatives. And for this you need to worry about the preparation of the wedding budget in advance.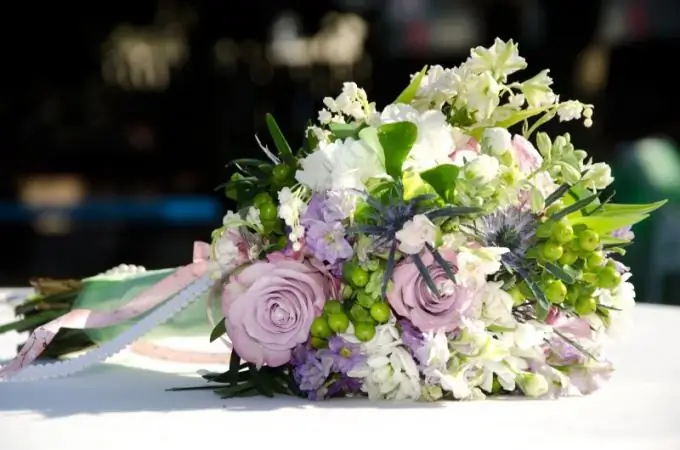 Of course, the cost of a wedding can vary significantly depending on the wishes of the newlyweds, the season and the region. Someone wants the wedding to be noisy, colorful, with a large number of guests. Others will like a celebration in a narrow family circle. We will try to calculate the lower and upper bar for the cost of the wedding celebration.
You can start with an indispensable attribute of any bride - a wedding dress. You can buy a ready-made dress, sew it to order in an atelier, or rent it in a salon. The last option is the cheapest and will cost about 4000r. In this case, it must be remembered that a fine will be charged for the damaged or stained dress. Buying a dress will cost 8000-40000r. Sewing in the salon: 6000 -20000r.
In addition, the bride will need:
- shoes: 1500-3000 rub.;
- veil: 1000-3000r.;
- bridal bouquet: 1500-3500 rubles;
- garter: 300-800 rubles;
- stockings: 300-800 rubles;
- gloves: 500-1500 rub.
The bride's image will be complemented by makeup, hairstyle, manicure and pedicure (3000-8000 rubles). This work should be entrusted to professional makeup artists and hairdressers. The price includes a trial hairstyle and the use of fresh flowers.
The costs for the groom are much less:
- suit: 6000-12000r.;
- shirt: 1000-1500 rubles;
- shoes: 1500-3000 rub.;
- boutonniere: 400-700 rubles;
- hairdresser services: 500-1200r.
An indispensable attribute of a wedding ceremony is wedding rings. You should not skimp on their purchase, because you will have to wear them for the rest of your life. Ring for the bride: 2000-15000 rub., Ring for the groom: 2000-5000 rub.
If you want to rent a limousine, it will cost 1000-1500 rubles per hour. Decorations for cars: 300-1500r. Minibus rental for guests: 1000 rubles / hour.
One of the biggest expense items is a wedding banquet. Its cost is 1200-1500 rubles / person. Thus, for a wedding for 50 guests, the cost will be 60,000-75,000 rubles. To this should be added 5-10% - the cost of renting premises, i.e. 3000-7500 rub. The cost of alcohol will be 10,000-20,000 rubles. The cost of a wedding cake: 500-600 rubles / kg. For 50 people, 7-8kg is enough. 3500-4800 RUR Festive decoration of the banquet hall will cost 2000-6000r.
You also need to use the services of a toastmaster (6000-12000 rubles), musicians (10000-15000) or a DJ (5000-8000 rubles), as well as a photo and video operator (15000-30000 rubles for two).
In addition, a certain amount should be provided for various little things: glasses for the bride and groom, a hearth, a towel, invitations, tapes for witnesses, etc. This can take 2000-5000r.
If you wish, you can order fireworks. It will become a bright and memorable point of the wedding celebration. Its cost can be from 5000r. up to 20,000 rubles.
In addition, you can include in the cost of a honeymoon trip: from 40,000 rubles. up to 100,000 rub.
Thus, according to our calculations, the most memorable day in life can cost from 233,000 rubles. up to 400,000 rubles. This budget is for guidance only and all figures are approximate. You can easily discard unnecessary items to reduce the cost or add some elements that will make the celebration truly unforgettable.