So, you have decided everything, you have applied to the registry office and appointed the date of the wedding. Now you have time to properly prepare for the wedding, usually a month and a half or two (this is how much time usually passes from the moment of the first visit to the registry office to the wedding ceremony itself).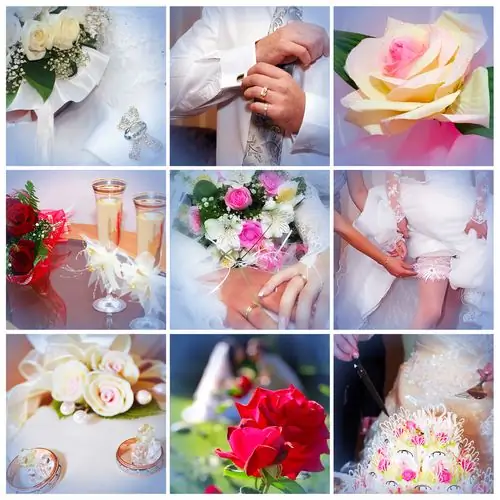 In order not to get confused and not to get lost in the preparatory bustle, you need to immediately determine for yourself "urgent matters", which cannot be forgotten in any case. Indeed, there are things without which a wedding celebration is simply unthinkable, without which the holiday of joining two hearts is a complete failure. A wedding is a serious matter. Let's get started.
1. Outfits for the bride and groom. Most weddings (at least "real", solemn) happen once in a lifetime, and they want to look especially beautiful on this day. It is clear that in our progressive time, white fluffy dresses and black suits are not an obligatory element of the holiday, but it is worth considering this issue. When choosing an outfit, remember that your loved ones will definitely appreciate and remember it.
2. Rings. A symbol of your love and the most valuable memento. When choosing rings, take your time, the incredible richness of the assortment in jewelry stores allows you to choose jewelry with almost unique characteristics.
3. Invitations to guests. If you want a noisy party with friends and loved ones, then do not forget to make a list of people you would like to see. Wedding invitations are sold at any kiosk: fill out, distribute or send out. And if the invitees are not two or four, but, say, thirty … then move on
4. Banquet hall and guest treats. A classic wedding is impossible without a noisy feast with toasts "to the young", gifts, and dances. And every person who came to congratulate you should later remember this celebration with warmth. What is needed for this? Nice spacious room, enough seating, food and attention - for everyone. And that's it, nothing else.
5. Means of transportation. You will not travel around the city by bus or tram. It all depends on your imagination and material support. A limousine, a carriage or just a smart car - choose for yourself. And, by the way, about the elegance: it would be nice to decorate the vehicle of the bride and groom, since there are enough specialists in this field. The rings on the cockpit, the doll on the bumper, the ribbons on the hood are golden classics of the genre.
6. Photo and video filming. A modern wedding is simply unthinkable without the presence of a person, hung with all kinds of photo and video equipment. A reminder of a wonderful day, well done on digital media, is a pleasant and necessary thing, but you shouldn't get too carried away. First, these services are not cheap. Secondly, everything is good in moderation. Hours of video filming and gigabytes of photos may simply not find a patient enough viewer.
7. Bridal bouquet. There will be no problems with this accessory, you just need to choose and order it in advance. It is better if it is not very big, because the bride is essentially walking with it in her arms for half a day.
Here, perhaps, if not all, then the basic advice on the difficult topic "How to prepare for the wedding." Take action, everything is in your hands! And in the end it is difficult to do without the old-fashioned: advice and love!