Children's skin is especially sensitive, and only high-quality, well-chosen hygiene products will help to preserve its natural smoothness and tenderness. It is especially important to choose the right cosmetics for newborns whose skin needs the most delicate and gentle care.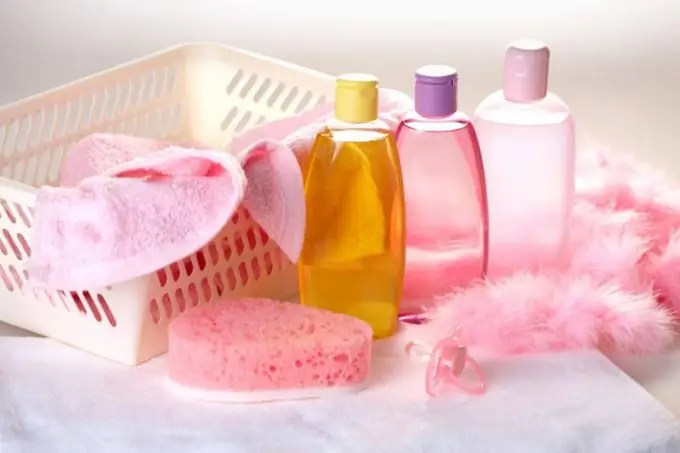 Soap, gel and shampoo
For bathing newborns, it is not recommended to use solid soap due to its alkaline base. The alkali contained in this product can harm your baby's skin, causing excessive dryness, flaking and redness. It is best to opt for liquid soap or cream soap that is pH neutral. It is perfect for both washing your baby and taking a bath.
Fortunately, you can find a wide variety of goods on the shelves now. The selection of special hygiene products for children, such as gels and foams, is also very large. Therefore, choosing the right cosmetics for a newborn will not be difficult. Preference should be given to baby foams and gels made on the basis of surfactants. The composition of such products does not include alkaline components, due to this, when bathing, the mucous membranes of the eyes are not irritated, the correct water-fat balance of the skin is preserved, and, most importantly, it does not dry out. According to the recommendations of dermatologists, the optimal use of such detergents is possible once or twice a week.
An excellent find for moms will be the use of "2 in 1" products, which combine the capabilities of a body gel and hair shampoo. It is worth remembering that all gels used should not only cleanse the skin of impurities, but also provide high-quality care for it, making it soft and elastic. When using baby shampoo, keep in mind that babies are still developing the upper epithelial layer of the skin. Due to this, the hairs of the baby are still weaker than those of an adult, and the scalp can easily be subject to various kinds of irritations. In order not to harm the baby, the shampoo should be selected very carefully. It is best if it is a specialized baby shampoo. It does not contain harmful, irritating components and actively protects the baby's scalp. It should be used 2-3 times a week.
Baby cream
Baby cream for a baby should be of high quality, actively moisturize and nourish the skin, and also prevent inflammation, flaking or irritation. It is preferable to purchase two types of cream: in the form of an emulsion, in which the base is an aqueous medium with the addition of oil droplets ("water / oil"), and a cream, where, on the contrary, water droplets are in an oil medium ("oil / water").
A water-based cream will actively moisturize the skin, while an oil-based product will protect it from irritation and effectively soften it.