A baby monitor is a device that consists of a transmitter and a receiver. With the help of the transmitter, all sounds in the nursery are recorded and at a certain frequency are transmitted to the receiver located at the parents. The baby monitor allows you to control the baby without being near him.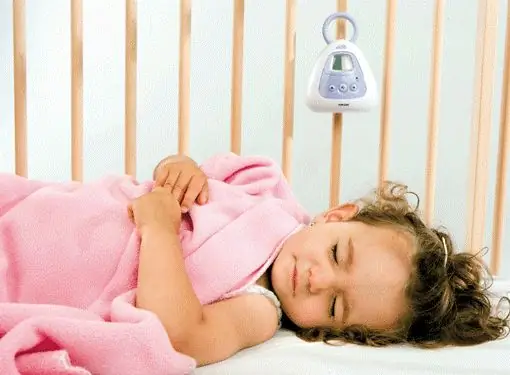 Baby Monitor Specifications
Before purchasing a baby monitor, pay attention to its main technical characteristics. Devices can be digital or analog. They differ in the quality of communication and, accordingly, in the price. Analog baby monitors often work with interference and are best used outdoors. Better quality - digital devices, they are immune to interference and have many settings. Different models of baby monitors have several power sources. It is better to purchase a device that works both from the mains and from batteries (or batteries).
When choosing a baby monitor, you need to take into account that the signal transmission range decreases in an enclosed space.
In some models of the baby monitor (baby minder, i-niania, maman wt, care, chicco, brevi), there is only one-way communication between the transmitter and the receiver, when the parents hear the baby in the nursery. Other models (philips, tomy, chicco, brevi, motorola) have two-way communication, in which case the parents can communicate with the child.
The average signal transmission distance is different and can be up to 400 meters. Models with action up to 100-150 m can be selected for use in a small private house. For a city apartment, a baby monitor with a signal transmission distance of up to 50 meters is sufficient. When traveling or on a trip to the country house, it is better to purchase a device with a range of up to 400 m. If the transmitter and receiver are far from each other, the baby monitor will give a special signal.
Basic operating modes, additional functions of the baby monitor
The baby monitor has several observation modes: sound, light and vibration mode. The main mode is sound, in light mode, if the transmitter detects a sound, the receiver gives a signal using indicators. Vibration mode is convenient to use outdoors: you can hang the device on your hand or put it in your pocket. Some models of baby monitors have useful additional functions, for example, a baby night light. It turns on automatically when the child gives a voice, and turns off when there is no sound for several minutes.
The device has an energy saving function, the baby monitor turns off automatically if there is no sound in the nursery for a long time.
Some devices have a night light projector, it projects various images (starry sky or funny pictures). There are models with a music box function that is activated by a loud voice. Additional functions can be controlled from the parent unit-receiver: select a melody, adjust the volume or make the night light more dim or bright. There are good reviews about baby monitors with a clock, timer and alarm clock on the parent unit.