Blankets for wrapping newborns do not lose their relevance even today, when there is a large selection of envelopes and overalls on sale. After all, not every family can afford to buy an envelope that will become small in a couple of months. The blanket, unlike these newfangled items, can be used much longer and cover the baby with it, not only during a walk, but also at home. However, not everyone knows how to choose the right product and wrap a newborn in it.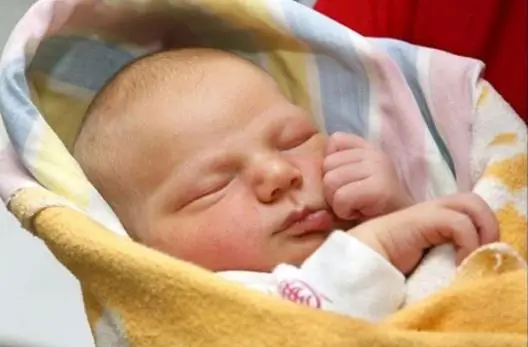 It is necessary
Blanket, ribbon, changing table
Instructions
Step 1
First, let's choose a blanket. The material from which it is made should be selected based on the time of year when the baby is born and the climate of the place where you live. A comfortable temperature for a newborn, dressed in cotton jersey, is created in a light woolen blanket or blanket at a temperature of 20 degrees. For autumn walks, you should purchase a thicker woolen, down or synthetic baby blanket. It is best if it is light - then it will be easier to wrap the child in it. If the child is winter, you cannot do without a warm cotton blanket. In severe frosts, the baby can be additionally covered with a downy blanket.
Step 2
After choosing a blanket, pick up a ribbon to it, with which you will bandage it. The custom of tying a newborn with a bright ribbon - a baptismal belt - came to us from ancient Russia and had a magical meaning. And the fashion for the color of ribbons, blue for boys and red for girls, was introduced by the royal family of the Romanovs. The bandage should be wide, not slippery, otherwise it will come loose, and long enough to tie a fluffy bow.
Step 3
Now we wrap the baby in a blanket. We put the tape on the changing table so that the ends of the same length remain on both sides. Lay the blanket on top of the ribbon with one of the corners up. On top of the blanket, we lay a diaper with a lace corner, which should coincide with the upper corner of the blanket. Place the baby in the diaper with its head in the upper corner of the blanket. Place it so that after you wrap the baby, the lace edge of the diaper can cover his face. At the blanket, first tuck the bottom corner on the legs, then the right and left. Do not pull too tight, but do not loosen too much. After wrapping the newborn, tie the bundle with the prepared ribbon. If it's cold outside, you can cover the baby's face with the free edge of the blanket over the lace corner. You can go for a walk.