As soon as he appears in the house, the baby begins to "establish" its own laws. Parents are thinking about how to minimize the baby's contact with chemically active elements. First of all, this concerns washing: delicate baby skin does not tolerate adult powders and requires the use of harmless products.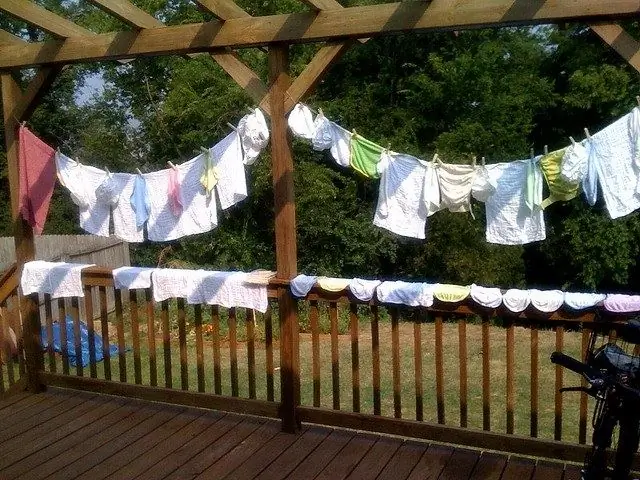 Good old methods of washing
The good old and proven method of washing involves the use of laundry soap. Moreover, this soap should not be whitening, but natural, brown. You will have to wash with your hands, but what sacrifices will not make a mother who cares about the health of her child? Diapers washed with laundry soap and ironed with a hot iron are almost 100% guarantee that the baby will not have rashes on the skin caused by the use of chemicals. According to the approved GOST 30266-95, solid laundry soap cannot have an irritating, allergic or toxic effect.
There is another method that is not so painful for the mother: grind up the soap and place it inside a semi-automatic washing machine. Water will dissolve soap in the same way as it dissolves powder, and undershirts are perfectly washed off. The high temperature will destroy the bacteria, and the baby will receive his clothes in a clean and almost sterile form. It is better not to carry out such experiments with an automatic machine: soap can produce copious foam and ruin the mechanism.
Modern methods: baby powders
Manufacturers of powders for washing baby clothes claim that their products are absolutely safe for newborns. In most cases, these statements correspond to the truth, but who can guarantee that the German powder purchased on the market was actually produced in Germany, and not in China or, even better, in a nearby barn? Unfortunately, falsification takes place, therefore, the choice of powder for washing children's clothes must be treated very carefully. It is best to buy it in a company store or use domestic products that, due to the low price, are not popular with counterfeiters.
Before you buy baby powder, take a few minutes to research its composition. A high-quality powder should not contain surfactants - surfactants that can lead to allergies. In most Western countries, these substances are prohibited, in Russia a ban has not yet been introduced. Also, a good powder should be free of phosphates and chlorine. If European-made baby powder is too expensive for you, choose Russian powder for washing baby clothes. In any case, baby powder will contain fewer flavors, surfactants and other harmful substances than an ordinary adult, and even more so, a whitening powder.