Interactive toys are the best that the children's goods market has to offer today. Our parents could only dream of this: singing and dancing animals, books with musical accompaniment, radio-controlled cars and even robots! The assortment is huge, the eyes run up. How to choose the right interactive toy, and what will the child be happy about?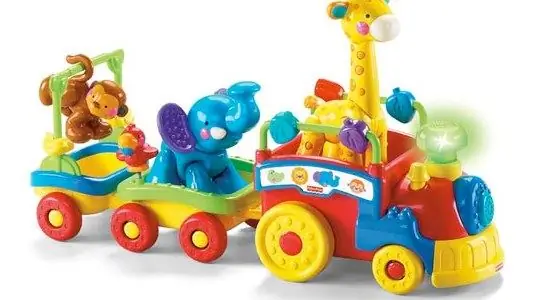 Instructions
Step 1
decide for yourself: do you just want to pamper your child with another toy, which he with a certain degree of probability can throw in a week, or you need something more. There are a lot of educational toys among interactive toys. There are toys for the development of fine motor skills, memory, for mastering the alphabet and numbers, for memorizing "right" and "left", etc.
Step 2
Drop stereotypes. Many girls are not interested in playing with dolls alone. The girl can and should also buy educational constructors, puzzles and even radio-controlled cars. And a boy, for example, can acquire an interactive animal for educational purposes. Taking care of the "real" pet, he will learn responsibility, and will not offend our smaller brothers. In a word, children must develop comprehensively.
Step 3
Take your child with you to the store. It is not necessary, of course, to take everything that he pokes a finger at, but, again, it is useful to know his interests.
Step 4
Consider the child's wishes, but don't spoil him too much. If you intend to purchase an educational toy, it should still be at least a little bit interesting for the kid.
Step 5
Do not use products of acidic shades. The colors can be rich, but they must be natural.
Step 6
Pay attention to safety. Ask when buying what the product is made of. It is desirable that the toy is made from environmentally friendly and hypoallergenic materials. If it is intended for children under three years old, it should not have small parts. It is also necessary that the toy has a quality certificate.
Step 7
Check out the toy in the store. If you, for example, choose a toy with musical accompaniment, the sound should not be too harsh: many babies are afraid of loud noise.
Step 8
Do not skimp on high-quality expensive products. Good interactive toys cost a lot, but in no case can you save on a child.