Breast milk is the ideal food for a baby from birth. Combined with complementary foods, it will provide your baby with everything necessary for harmonious growth and development. But it happens that breastfeeding becomes impossible, and the question arises before the parents, how to choose the formula for the baby?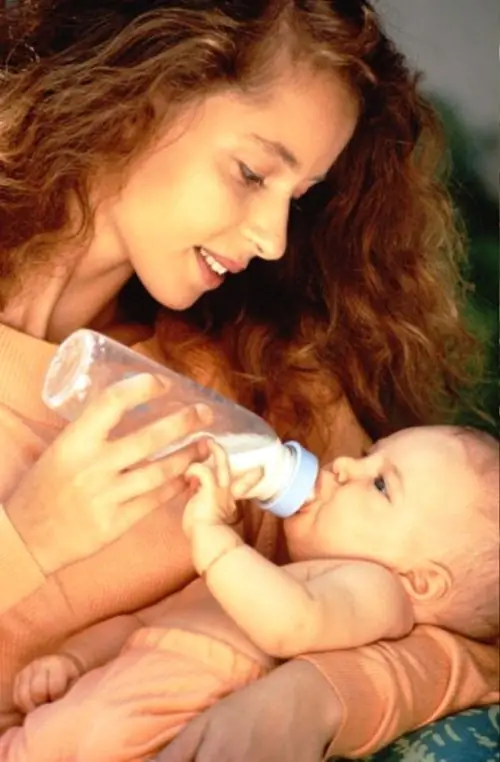 Instructions
Step 1
First, consult your pediatrician. Only he has information about the health of your child and the characteristics of the body. An illiterate approach to the choice of a mixture can lead to indigestion in the baby and allergic reactions.
Step 2
The mixture is suitable for a child if: - he eats it with pleasure;
- the skin is clean;
- stool is normal;
- the baby feels good, does not act up, is active, develops and grows normally.
Step 3
The mixture is not suitable for a baby if: - the baby has become restless;
- a rash or redness appears on the skin;
- problems with digestion and intestines have begun - regurgitation, bloating, colic, gas;
- the child is constantly underweight.
Step 4
If such a reaction appeared when meeting a new product, do not rush to transfer the child to another mixture. The baby's body needs to adapt for about 2-3 days. Didn't the unpleasant symptoms go away after a few days? Then you need to talk to a specialist and continue the selection of food.
Step 5
The result of the correct selection of the mixture and the correct feeding should be the child's well-being and age-appropriate development. Do not forget that you need to introduce a new product gradually, start giving any mixture in small quantities, carefully observing the condition of the child.