Surely, you have already dealt with similar rooms in large hypermarkets. Let's face it, they greatly facilitate the task of parents who seek to fly around all departments without much delay. And the children's playroom in this matter is a great help: both parents feel good, and the children do not get bored. Suppose you are wondering about starting your own business in this field.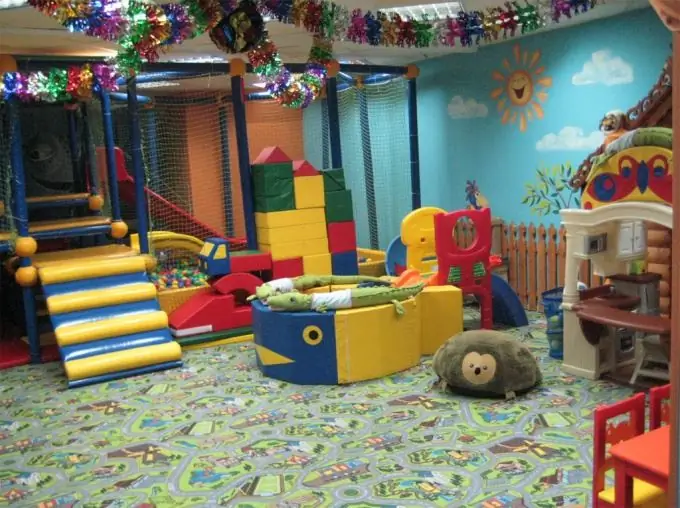 Instructions
Step 1
First, decide on a hypermarket or a store (taking into account, of course, traffic).
Step 2
You need to think about where in the shopping center the playroom will be the most profitable for you and most convenient for customers. The best option for you would be to sit next to eateries and cafes. This option will suit any family who comes to the store.
Step 3
The area of the playroom must be at least 30 square meters. Otherwise, you will simply have nowhere to place the game attractions (slides, trampolines, maze, etc.). Try to take into account all the nuances: the location of the toilet (the room should not be too far from it), the height of the ceilings, ventilation (the air must be constantly updated), the safety of the gaming equipment itself (they should be as soft as possible and without sharp corners), payment (think over and make business plan).
Step 4
Rent must pay off for your business to be profitable. Therefore, it is best to determine the fee for half an hour, so it is more convenient for many parents, since not everyone will spend an hour or two in the shopping center. And the payment will not be so big that it will definitely play a role.
Step 5
When it comes to play outfits, you should get the following minimal but must-have set (if you want to be successful in your business). After all, it is known that parents with great pleasure will go where their children will feel good too. Therefore, the best option would be to have a labyrinth in the room with all kinds of slides and obstacles inside, a swing and a trampoline (including an inflatable one). Also provide seating for those parents who have come here for the sake of a child and just want to relax while their child is enthusiastically playing. Do not forget about such important little things as cabinets (rack with cells) for children's clothes and shoes, hangers.