In the warm season and when the weather is favorable for walking, Muscovites usually go out of town, where they can have a picnic, barbecue, breathe fresh air and walk barefoot on the grass. Especially this type of weekend recreation is shown to families with children, for whom the Moscow ecology, of course, has become familiar, but will never be useful.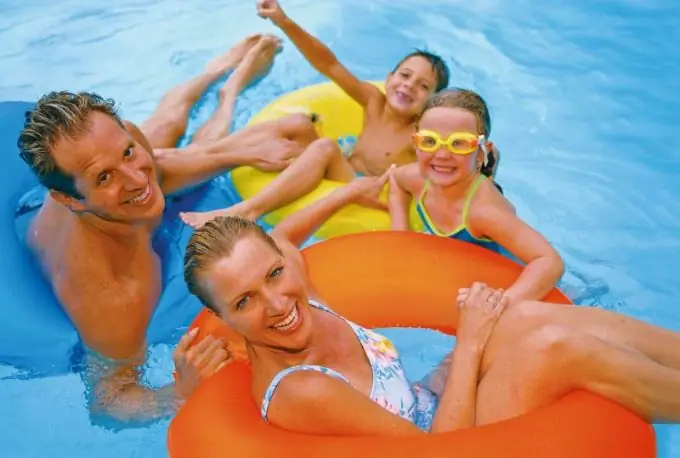 Instructions
Step 1
Outdoor recreation
In the event that a long trip to the region is a tiring task for you or you don't have your own car, head to the capital's numerous parks, estates and small forest plantations. Most of Moscow's parks have been seriously renovated recently. For example, Gorky Park, which radically changed according to the plan of restructuring the Moscow authorities, as well as the estate of Kuzminki, Tsaritsyno, Kolomenskoye and others.
Step 2
Go for a ride on the rides, have an outdoor picnic, ride bicycles or roller skates, which are increasingly available for rent at a reasonable price. Take a soccer ball or tennis rackets with you - children will be happy to have an active pastime and time with their parents.
Step 3
Water parks
Few of the residents of Moscow now dare to swim in the capital's reservoirs, increasingly preferring to leave the city or even 100-150 kilometers from the city towards the Big Volga. For such people and their children, a visit to the water park can be an excellent way out of the situation. Currently, several such water centers are operating in Moscow at once - Moreon in Yasenevo, Karibia in Perovo, Yuna Life in Altufyevo, Fantasy in Maryino, Kva-Kva Park in Mytishchi and other water parks.
Step 4
Cinema and performances
The film industry in Russia is increasingly producing its own and showing foreign cartoons, which will be interesting to both children and adults. The whole family will enjoy such films: you will take a break from the children who will be busy watching, and besides, you yourself will laugh a lot.
Step 5
Children's performances are held weekly at the Moscow Art Theater. A. P. Chekhov (the famous production of "The Little Humpbacked Horse"), the Moscow International House of Music ("The Adventures of Oliver Twist"), the Moscow Puppet Theater ("Doodle Game"), in which famous and famous actors play. These performances can easily grab the attention of young viewers.
Step 6
Zoos and Aquarium
Acquaintance with the animal world can be interesting to almost all children. For example, at VDNKh there is a small but already well-known zoo "Lived at Babusi's", where you will not find elephants or giraffes, but you can see the living conditions of animals familiar to Russian life. But you can not be original, but go to the usual zoo on Barrikadnaya, where you can spend 3-4 hours of weekend time with your children.
Step 7
And, finally, the most popular novelty in Moscow over the past year is the oceanarium on Dmitrovskoe highway. Exotic fish, rays, sharks and other marine animals as close to natural conditions as possible. But the aquarium has one fat minus - tickets to it are quite expensive, and the queues do not get shorter even a year after opening.