A comfortable bed is a guarantee of the comfort and health of the baby and parents. When you go shopping, understand what you can save on and what you can't. You can buy a high-quality and inexpensive crib if you refuse additional accessories: a box, a canopy, a changing table and various decorations.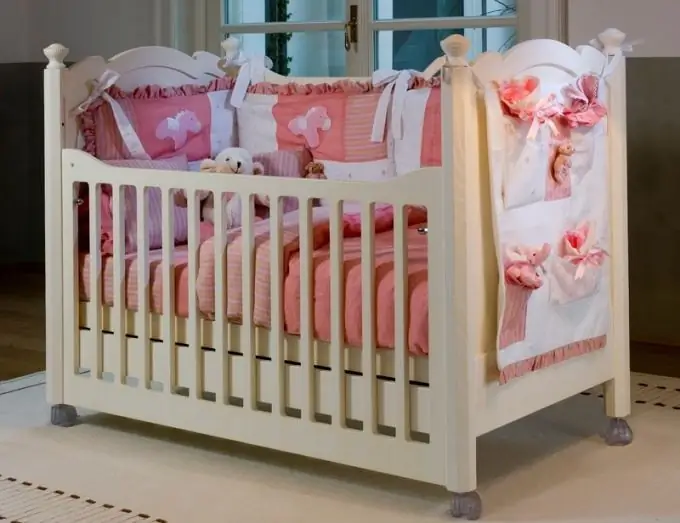 What you can't save on - material
In matters of choosing a crib, there are also fundamental points; material belongs to this category. At all times, wooden cots were considered the best solution. In the middle price category there is furniture made of alder, birch and maple. Pine has a lower cost, however, over time, the baby's desire to try "to the teeth" is sure to be imprinted on the sides of the bed.
The furniture segment offers constructions made of compressed wood chips. The popularity of such beds lies in their low cost and durability, but often the material contains formaldehyde, which can harm the health of the baby.
Crib "with a stock"
Choose a crib based on how long it will last. Stationary beds are 1, 2x0, 6 m in size. Transformer beds are 1, 4x0, 7 m in size, from a nursery can turn into a teenager. Such designs are more expensive, but they allow you to use one bed for up to 8 years.
Pendulum mechanisms and runners
Cots with pendulum mechanisms and runners are real helpers for mothers. When choosing such a system, keep in mind that over time the child will grow up and the constantly rocking mechanism will become unsafe. So that after six months there is no need to purchase a new bed for the baby, take care of the presence of clamps that stop the swinging mechanism.
Bottom and sides
The fewer slats on the crib, the cheaper. But in this matter, we must not forget about safety. The optimal distance is considered to be 5-6 cm. Do not be too lazy when buying to arm yourself with a centimeter and measure this seemingly insignificant, but such an important parameter.
In terms of durability, the slatted bottom wins the battle. Solid bottom beds are much cheaper, but the occurrence of "night trouble" and poor drying of the mattress can lead to the appearance of mold.
What can you refuse
The canopy is a fabric structure that makes the bed attractive, but does not carry any functional load, which means it is not a necessity. In addition, the material collects dust on itself and can become a time bomb placed under the baby's health.
A drawer under the bed is a convenient and practical thing, but if there are enough cabinets and drawers in the room, discard it.