A woman, even while carrying a child, always remains a woman, and therefore is forced to do household chores. Since household chores cannot be avoided, then we must try to do it as correctly and safely as possible.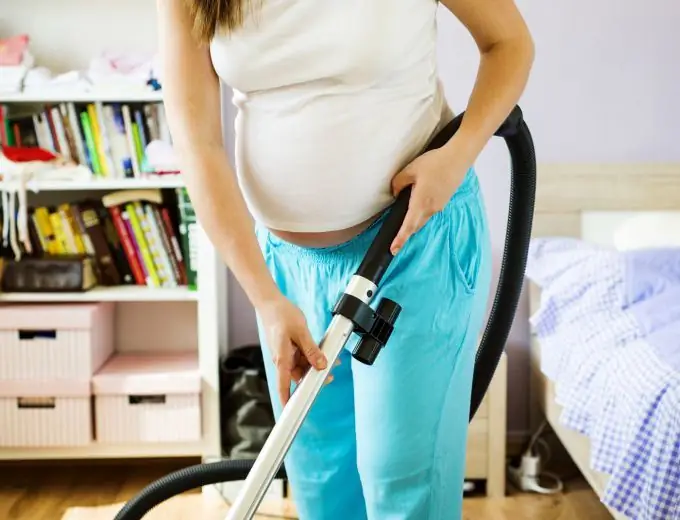 Habitual daily activities become extremely difficult for every woman during the period of bearing a child. The longer the term becomes, the more ingenuity the expectant mother will have to show in order to do this or that housework. The most important thing is that all actions are safe, and do not affect the health of the woman herself, and, consequently, the health of the child.
If you have cleaning or other household activities, open the windows so that your muscles can get enough oxygen while you work so you don't have to suffer from shortness of breath.
Do the work slowly, avoiding sudden movements, calmly and measuredly - there is no need to rush anywhere. This will not only ensure good health, but also avoid the risk of injury.
Try to use a footrest or ladder instead of reaching upward, for example, trying to dust off the top shelves. Do not put additional stress on the back muscles that support the spine, during pregnancy this is completely unnecessary. Any awkward or unsuccessful movement can lead to injuries that can significantly complicate the gestation period.
To avoid a one-sided load, try to do all household chores with two hands so that the load on them is uniform, and not one-sided.
If it becomes necessary to move any object, keep it not at a distance, but closer to the stomach, so as not to shift the center of gravity of the body and not to overextend the lumbar and spinal muscles. In general, it is advisable to refrain from moving objects, especially heavy or bulky ones.
When picking up any object from the floor, in no case bend over, but sit down or bend your knees slightly. The back must be kept straight. It is necessary to rise slowly, without sudden movements, only in this way it is possible to avoid unnecessary overstrain of the back and lower back.
If you have to work in one position for some time - spread your legs as wide as possible - this way the body weight will be evenly distributed and will not create unnecessary stress on the muscles.
Be sure to take a short break at least once every half hour. Muscles should not be in constant tension. You can lie down for a while to ensure good blood circulation.
If you have any soreness in your lower back, try to stretch it slightly. To do this, just get on all fours and arch your back, as cats do.
Following these simple rules, a woman will significantly reduce the risk of a threat to both her health and the health of future offspring, and the gestation period will pass without complications.