Transporting children in a car should require parental responsibility and attention to detail. Do not neglect safety measures, even if you need to drive to a nearby store. And on a flat desert road, a force majeure situation may occur, and you have no right to risk the life and health of children.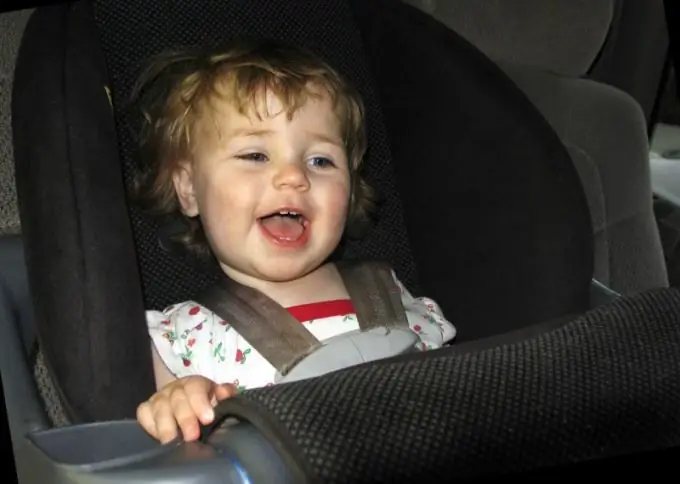 Instructions
Step 1
According to the rules of the road, children under 12 years old can only be transported in a vehicle using special restraining devices - a car seat, a booster or special safety belt clips. These measures are necessary so that in the event of an accident, children are as protected as possible from injury. Ordinary seat belts are not suitable for small children - in case of a strong impact, the child may slip out from under the belt or be injured directly by the belt itself, which will severely squeeze the child's chest and neck. The car seat provides additional impact protection as it has an impact-resistant body.
Step 2
For children who do not fit in the car seat, put on a booster and fasten with a regular seat belt, on which put on a special retainer that takes the belt below the neck. If you are placing the car seat in the front seat, deactivate the airbag. Although it is generally not necessary to transport children in the front seat - the front passenger seat is considered the most dangerous.
Step 3
The safest place in the car is the center seat in the back seat. If a child sits strapped in, at the time of an accident, he is less likely to be injured on the back of the front seat at the time of impact. But adults who sit next to the child must be sure to wear seat belts. Otherwise, they may hit the small passenger with their body weight.
Step 4
When buying a car, pay attention to active and passive safety devices. Ideally, the rear seats should be equipped with airbags, curtain airbags and an Isofix car seat mount. The car itself must have the highest safety rating for passengers according to the EuroNCap system. In the passenger compartment, on the rear shelf, there should not be any unnecessary objects that, under strong braking, may fall and injure the child.
Step 5
To make the child comfortable in the car, keep it at the optimum temperature. Separate climate control will help you with this - another option that you need to pay attention to when choosing a car. Hang a special sunblind on the side window or tint them to the approved standards. Hang a small special mirror on the rear-view mirror to help you control your baby without being distracted from the road.