A carpet in the nursery will protect the child from injuries in the event of a fall and from colds in the cold season. When choosing a carpet for a child, the size of the room, the design of the room and the amount that you can spend on the purchase are taken into account.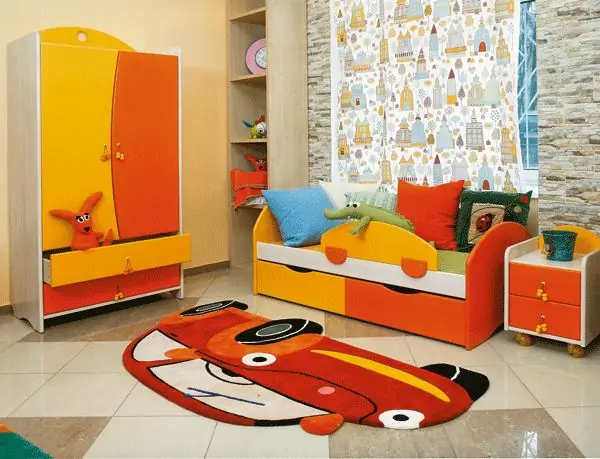 Instructions
Step 1
The sizes of the room are different, respectively, the carpets are small, medium and large. For use in separate areas of the children's room, buy one or more small carpets, up to two and a half square meters. Place them near the crib, in the play area, or near the closet where the baby changes clothes. Buy a medium-sized carpet to decorate the play area or as an independent element of decor for a room. The size of such a carpet does not exceed six square meters. Buy a large carpet, from six squares or more, if you plan to use it for a long time. It will be one of the main elements for decorating a room.
Step 2
The pile of the carpet can be made from natural and synthetic materials, as well as have a mixed composition. Acrylic and polypropylene have hypoallergenic qualities that are of great importance for babies. In addition, synthetic materials have good performance properties, surpassing products made from natural ingredients. Carpets with natural pile, especially wool, can cause allergies not only in children, but also in adults. Despite this, natural pile is pleasant to the touch and is considered a more prestigious purchase. When choosing a material, consider the possibility of allergic reactions in the child and the conditions in which the carpet will be used. If your kid is passionate about painting, buy a rug for the play area that can be easily washed.
Step 3
Correctly chosen design and color of the carpet contribute to the creation of a good mood. Choose a carpet of bright colors with different patterns for babies up to three years old, because children are actively learning about the world around them. It will be interesting for them to play on the carpet with images of the characters of their favorite cartoons. When choosing a drawing, consider the interests of the child. A boy who plays with toy cars all day is unlikely to like a carpet with animals, but a lover to dream up and travel will just be to his taste.
Step 4
When planning the cost of buying a carpet, first determine the purpose of the purchase. If you want to buy a thing that will be the main element in the design of a child's room, choose a handmade carpet made from natural materials, wool or cotton. If your goal is to purchase an inexpensive, practical thing that meets all functional requirements, choose a domestic mid-price carpet.