In order to quickly and without unnecessary bureaucratic red tape get a monetary certificate of maternity capital, it is useful to familiarize yourself in advance with the list of necessary documents and the procedure for its registration. Below is all the information you need to know about this.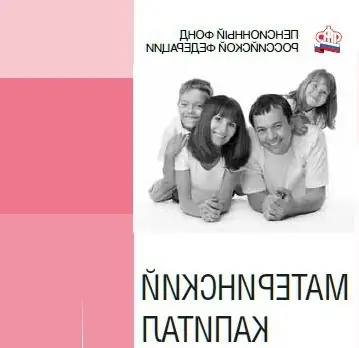 Instructions
Step 1
The term "maternity capital" officially means the right to receive a special money certificate in the amount of approximately 365,000 rubles. when a second or more child is born in the family, but not more than once. A similar opportunity is provided for on the basis of Federal Law No. 256 FZ, which entered into force on January 1, 2007. In order to quickly and without unnecessary red tape, you need to get a properly issued birth certificate (or official adoption) from the registry office a child with the obligatory indication of his citizenship.
Step 2
With this document, as well as with a personal passport, in which there must be a mark confirming "parenthood" (that is, two or more children must be entered in the "children" column), as well as with a note about Russian citizenship, appear at local branch of the Pension Fund. It is necessary to make two copies of the documents in advance, which will need to be attached to the originals upon delivery. You may also need to have a certificate of marriage or divorce and two copies of it.
Step 3
Fill out an application of the established form for maternity capital and hand it over by presenting a package of necessary documents, and not forgetting to get your hands on a receipt for their acceptance from the person in charge.
Step 4
Receive a notification from the FIU no later than 45 calendar days. Come to the department in person and there to finalize the maternity capital, having received the corresponding valuable certificate in your hands. If, after this period, no notification is received, then the citizen has the right to demand it on his own.