The difficulties of the first months of a child's life are behind, your baby is already exploring the world with might and main and interacting with it. Now he not only eats and sleeps, it's time to diversify his life and teach him something new.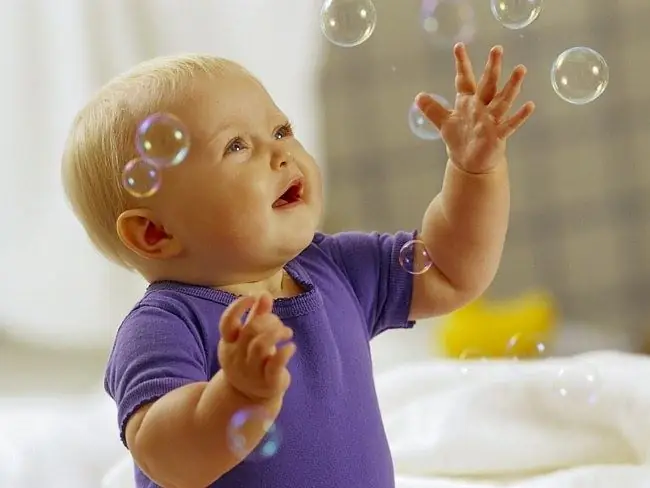 stroll
A completely acceptable way for all mothers to keep a one-year-old child busy is to go for a walk with him. If the weather is warm and sunny, take a stroller, a bottle of water, dress your baby and take a walk in the fresh air. Walk through the park, show your child trees, flowers, clouds, dogs and cats on the street, shop signs.
If the child is not nervous when he is in someone else's house, you can go to visit someone. The kid will get used to new faces and interiors.
A walk is a very exciting activity for a one-year-old child. Many children love to take a nap in their stroller. Although walking in the fresh air is the best pastime for babies, you should not walk if the outside temperature is below 15 ° C or it is raining heavily.
If your baby already knows how to walk, put on his shoes, maybe he will walk a little by himself, run, get a bunch of new impressions, and then return home tired and happy.
Always dress your child for the weather, an overly wrapped baby on a hot day will be capricious and express dissatisfaction.
Toys
The choice of toys for one-year-old kids pleases with its diversity. Squealing, ringing, spinning, musical, glowing, so bright and alluring to the child. A kid at this age comprehends the world through play, he examines, feels, tastes the objects that surround him.
If you methodically study with him, show him how to interact with this or that subject, he will soon delight you with new skills. Do not skimp and buy pyramids, a sorter, a baby doll, a tumbler, cardboard music books and other interesting toys for your child. A recently purchased item is guaranteed to keep the baby busy for a while.
Fun bathing
Almost all babies love to spend time in the water, this is their favorite pastime. You can visit the children's pool with your child, teach him how to swim. Bathe him in a warm bath in the evenings before going to bed. Don't forget to arm yourself with ducks and soap bubbles.
Reading fairy tales
Many babies love to listen to their mother reading them at night. You shouldn't introduce your child to a new story every time. Choose two or three fairy tales that he loves most and understands best, and read only them for at least a month. Soon, the kid will begin to follow the plot, will begin to pay attention to the illustrations and may even learn to repeat individual words after the parents.